While at the Newseum there were many things that reminded me of our Online Journalism class.
There were six floors, all filled with information from news of all types and times.
I started off on the first floor, where there was a giant piece of the Berlin Wall. It was fascinating to see the west side of the wall versus the east.
The east wall was extremely clean and unmarked, while the west wall had graffiti on it and was full of  hate towards the government.
After seeing the wall, I went into a screening room that played different clips from the news with a great voiceover that talked about the history of news and reporting. There were many quotes that I found very inspirational in this including:
"There is a terrific disadvantage not having the abrasive quality of the press applied to you daily, to an administration, even though we never like it, and even though we wish they didn't write it, and even though we disapprove, there isn't any doubt that we could not do the job at all in a free society without a very, very active press" -John F. Kennedy
"The cost of liberty is less than the price of oppression" -W.E.B. DuBois
"Journalism is the first rough draft of history" -Phil Graham
I took the elevator up to the sixth floor to see the observation deck.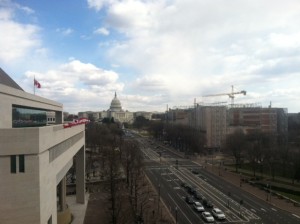 There were also front pages from many different country's newspapers and each of the state's prominent papers. It was really interesting to see the differences between all the papers. I personally liked the 6 column Washington Post format, as I felt it looked clean and easy to navigate through.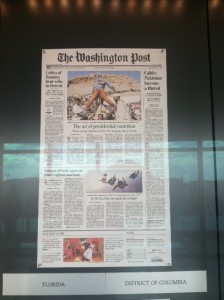 One thing I noticed while looking through the papers was that many countries, though English was not their official language, printed their papers in English. For example, the Chinese newspaper writes everything in English.
I went downstairs to see more newspaper clippings and information about the evolution of the press. It was fascinating to see how so many countries do not offer the same freedoms that the United States does for journalists. There was even a giant wall dedicated to the "fallen" journalists who had died because of their jobs.
The September 11 exhibit was one that really stood out to me.
I'm not usually one to cry during movies or TV, however once I watched a compilation video of newscasts on September 11 I was grateful for the tissue box outside the screening room.
It was so emotional and moving seeing each of the journalists' personal accounts for being on the scene that day.
The Newseum is my new favorite museum in D.C. and I cannot wait for my next trip there.